An insider's guide to The Leadership Challenge® in Sonoma
"When I'm at my personal best, I can go home and say I did something good today." - Workshop Participant
We learn a lot from hosting 20 – 25 participants regularly at The Leadership Challenge® Workshop and Facilitator Training. As we debrief these sessions, we always come to the following conclusion: "This was the best group, ever."
The truth is, we mean it. Why does it seem that year after year we are wowed by the learning culture, the cohesiveness, the insights, the mastery of content, and the ability of a group from different industries, levels, and geography to come together and do extraordinary things?
From over 10 years of observation, I would have to say it comes down to setting, inclusiveness, content, and experience as to why we attract the finest leaders and learners.
Setting: Aside from Sonoma being a world-class wine and fine dining destination, participants report that the attention they get from our workshop team enables them to come prepared and truly immerse themselves in the program. The venue staff's friendliness, excellent service, and quality of care allows them to feel taken care of and fully commit to the program. It is hard to leave business, family, and work behind, so the luxurious hotel and spa experience of our venue allows participants to relax, reflect, and focus on their own leadership development.
Inclusiveness: The Leadership Challenge is not a generic "one and done" leadership development program. Backed by over 30 years of research, the practices that sustainably develop leaders are proven to work for everyone, regardless of industry, gender, country, company size, or even age. The Five Practices of Exemplary Leadership® model, quite simply, is the most elegant and actionable leadership development process for developing leaders across levels and industries. The two-day workshop is designed so participants can go deep and take away numerous insights and goals to become a better leader, while our Facilitator Training helps uncover and leverage each participant's authentic capabilities to help bring others along.
Content: Not too hard, not too soft, but also not "just right," the content is a challenging and rigorous opportunity to develop and practice real-world leadership capabilities in a safe setting. The LPI®: Leadership Practices Inventory® 360 assessment, taken as pre-work 2-3 weeks ahead of the workshop, prepares leaders from the start to set the stage for developing a feedback relationship with their managers, co-workers, and constituents. Often, leaders are surprised, flattered, wary, or even defensive about getting feedback; the workshop camaraderie equips participants to see beyond any initial surprise and recognize we're all in it together -- and now here is what to do to improve. Participants also receive a personalized LPI debrief session or coaching session with a master coach and that time is theirs to use any way they see fit.
Experience: Whether participants attend only the workshop or continue with Facilitator Training, the actual experience starts 3-4 weeks ahead of time with rigorous attention to detail in preparations. Attendees receive pre-work, the LPI assessment links, information on what to expect, directions, and assignments so that they arrive prepared and ready to get to work. Over the course of the training, attendees can expect to be active participants through activities, reflection, teamwork, experiential learning, and yes, homework. The workshop facilitators are all Certified Masters of The Leadership Challenge®, with the deepest roots and understanding of the program and how to bring the content to life for everyone, no matter how different or diverse the group. Our post-workshop reinforcement email program, e-Coach, provides encouragement and activities to put the learning into practice. Fortunately, a lot of fun is also built in, with excellent food, networking, and of course special evening events at our world class wineries. We love showing off Sonoma and we make sure that people not only work hard, but have an opportunity to enjoy the destination.
So what do Participants actually say about what they learn?
Here are some observations, takeaways, and insights from recent workshops:
"The content & activities were phenomenal. The LPI is an incredibly powerful tool."
"Stunning and truly incredible location, meals and networking events were amazing."
"The style and personality of the group along with the beautiful scenery set the stage for energetic learning activities for all sections. Loved the LPI too."
"I really liked how quickly the group came together. The conversations with other group members was invaluable. It was awesome to share with individuals outside my work group to gain different perspectives."
"The content is very applicable and the curriculum was well laid out with activities and time to share. Program was very well organized and loved the positive attitudes of all staff."
"In addition to the dynamic content, I gained so much value from my peers & sharing feedback."
"I truly appreciated the in-depth analysis of the LPI. The structure of the classwork and activities were very effective. No lags in energy."
"The atmosphere was key, we were comfortable and relaxed which is to me the best environment for learning."
"Leadership is a chain reaction. The LPI 360 assessment is a tool that shows the reality of how you are with others."
"I feel like I can now have conversations with a genuine desire to receive feedback."
"Authentic learning environment, experiential practice, welcoming and engaging participants. It was great."
"It was real. It was difficult. It makes sense and it actually appropriately and effectively sets you up for the real world."
"I enjoyed being challenged by practicing the facilitation which helped ground me in the material."
"The environment that was created left no doubt about the intention to help facilitate our learning and sharing."
"Great opportunities to stretch & learn in a supportive and feedback rich environment."
---
And Here's a roll up of recent feedback: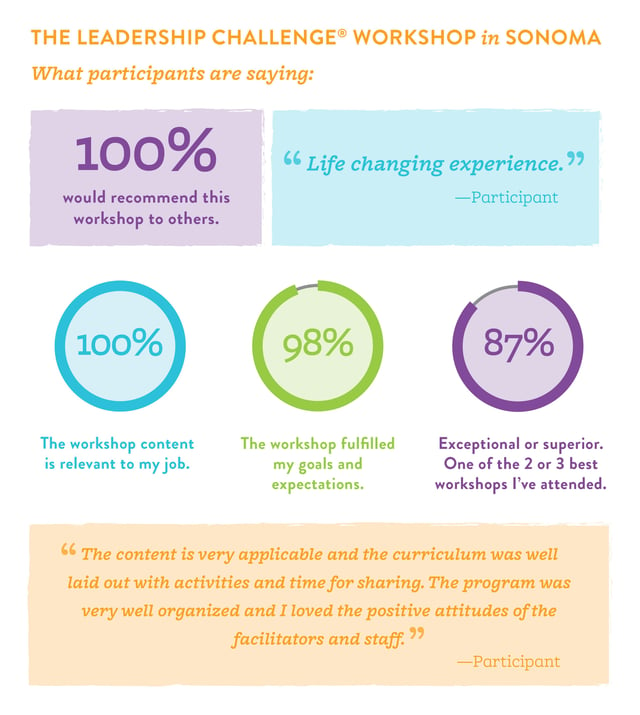 We are often asked what makes us different, or why should an attendee choose a FlashPoint session. We'd love to hear from you if you have any more questions or would like to give us feedback! We don't want to sit back and rest on our laurels, so help us "Challenge the Process" by suggesting innovative ways we can improve what we do to deliver on our promise of developing exemplary leaders.
---
The Leadership Challenge® Workshop is proven to increase leadership effectiveness. Based on The Five Practices of Exemplary Leadership®, by James M. Kouzes and Barry Z. Posner, this two-day workshop is a highly interactive experience that develops leaders across all industries and sizes of organizations. Through practical hands-on exercises, participants will learn to apply The Leadership Challenge® principles to their current roles, build a personal leadership development plan for applying key learnings from the workshop in the workplace, and be prepared to implement new leadership practices in their daily actions.
Not ready to register yet? Download an overview of the program or reflect on if you're ready to attend The Leadership Challenge.
---