When a new leader joins a team, priority one is to establish a solid foundation with the team. Whether you've hired a new leader to join an existing team, promoted an employee to lead an existing team, or asked a leader to take charge of a newly formed team, having a proven process to support the team and the individual can be an early difference-maker.
No two leadership assimilations are alike.
That's why we have an established New Leader and Team Assimilation process that gets results.
Our process includes the right mix of structure to keep the leader and the team progressing toward goals and personalization to let teams maximize the team's unique opportunity. We incorporate a facilitated team session, individual and team assessments, leader coaching, and The Five Behaviors®: Team Development to ensure new leaders and teams take advantage of their opportunity to hit new heights of effectiveness and accelerate their impact.
New Leader Assimilation Process and Outcomes
A facilitated new leader assimilation process includes both support for the team and individual coaching for the leader. Including these two tracks helps create clarity, build trust, and quickly align the team while allowing the new leader to receive personal attention during the early months. The team is able to move more rapidly toward high performance by understanding work habits, as well as avoiding potential conflicts by clarifying mutual expectations.
New leaders work with direct reports to understand the state of the team, identify expectations, and learn as much as possible to get the team on the right track.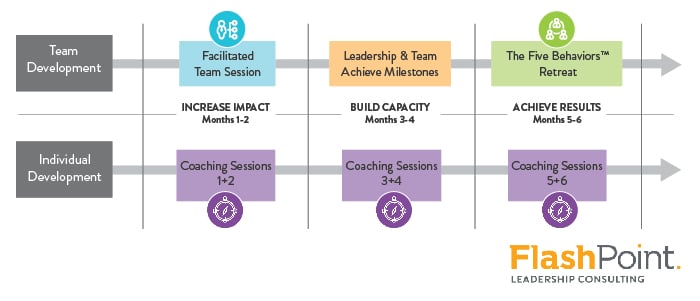 Benefits of New Leader Assimilation for the Leader:
Makes an impact much earlier
Assesses the state of the team and builds relationships
Identifies performance expectations and metrics
Builds a plan to address any areas of improvement
Receives individual, personalized support during critical transition points
Benefits of New Leader Assimilation for the Team:
Functions more smoothly thanks to less distractions and stress
Gains clarity on how to work best with each other
Understands priorities and the vision for the team
Creates a set of agreements for working closely and effectively together
Establishes a culture of responsibility
Minimizes organizational down-time
At FlashPoint, we work with clients to onboard leaders and direct reports so that teams are set up for success and able to achieve positive results throughout the process. We specialize in helping leaders and teams realize their potential.
Additional New Leader Assimilation Resources: