Coaching. It's a hot topic and prominent feature among leader development programs. You've heard of its benefits and how it can transform leaders and organizations, but how do you measure that impact? How do you justify its use?
Well, coaching can be measured. Here's how: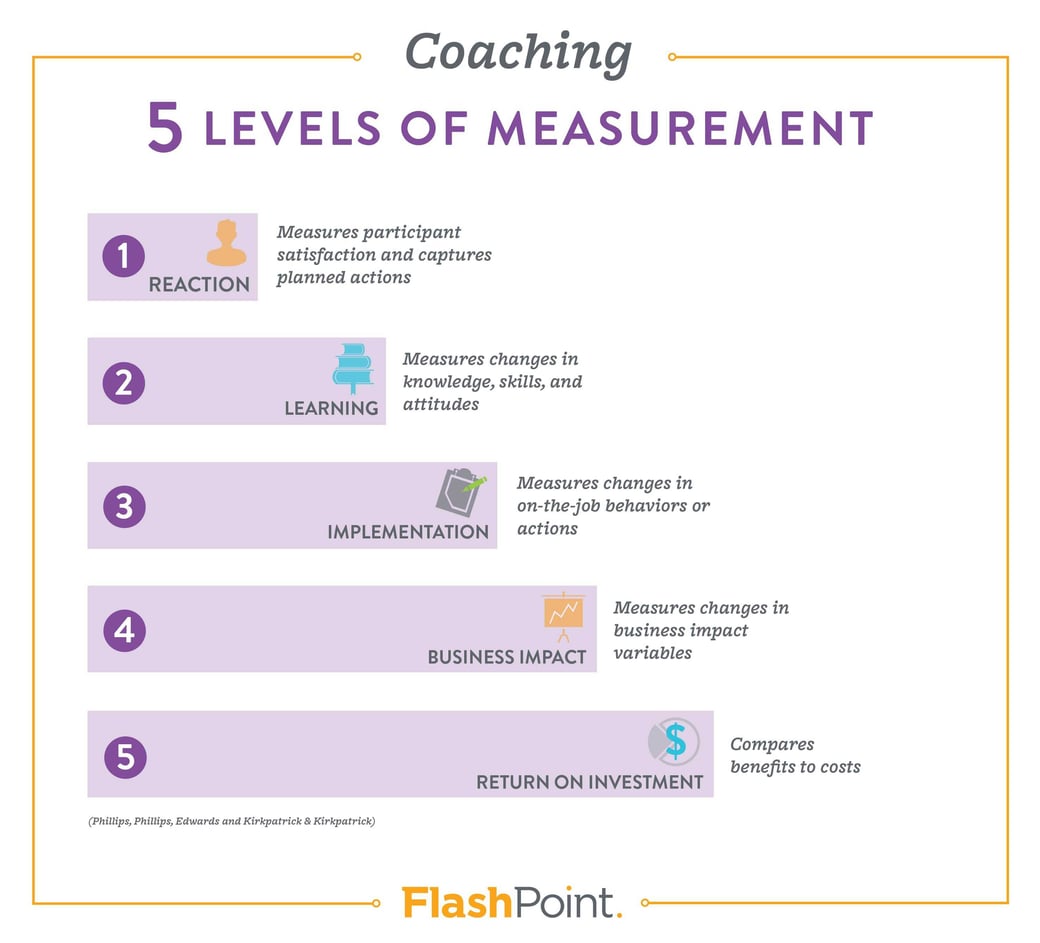 Now, let's dive into each level a little bit deeper . . .
Reaction. Watch how your leaders respond to their coaching engagements. Do they leave energized and engaged? Are they ready to tackle new challenges and continue improving their skills? Would they recommend the experience to others? Better yet, employ engagement surveys to evaluate the level of satisfaction and value leaders feel they are receiving.
Learning. Do your leaders seem more knowledgeable? Are they better measuring up to core competencies? Using pre- and post-program assessments scores, self-reported effectiveness, and IDP achievements, evaluate the level of learning your leaders have attained.
Implementation. Are your leaders changing their behavior? Do you see them actively working on their action items and improving performance between sessions? Utilize assessments and data gathering (peer/direct report interviews) that can help determine the level of these changes.
Business Impact. Are leaders being retained and promoted? Are they better prepared for tomorrow? Is internal bench strength increasing? Measuring these business variables can highlight the impact coaching has on the future success of your organization.
Return on Investment. Look at your bottom-line. The numbers don't lie. If you see improved business results, chances are it relates to the impact coaching has had on the four previous levels. But this change won't happen overnight. Coaching takes time, but it is usually worth the investment.
At FlashPoint, we recognize that each company is unique, so coaching isn't a one-size-fits-all approach. As a result, we work with each leader and his or her manager to find the right coach, identify areas of focus, define what success looks like, and understand how to best measure it, ensuring coaching has a lasting impact on your leaders and organization.
*Measuring the Success of Coaching, A Step-by-Step Approach for Measuring Impact and ROI, Phillips, Phillips, and Edwards; Evaluating Training Programs: The Four Levels, 3rd Edition, Kirkpatrick & Kirkpatrick.
---