How Strategy-Driven Is Your Approach to Leadership?
Calling for a new mind-set around leadership development, we encourage organizations to make leadership their number one priority and to nurture leaders for the future—to shed episodic approaches to training leaders and embrace a strategy-driven view of leadership development.
And while you probably have a high level of understanding and desire to adopt this leadership development philosophy in your own organization, you might still be wondering:
"But how do I do that? How do I shift to the place where we're not only talking about how many dollars we have allocated this year, to a place where our programs are tied to leadership strategy?
and
"How do I really know what leadership development tools, strategies, and engagements are needed to develop our leaders who are currently 'in place' and getting ready for their 'next place'?"
To help answer the questions surrounding these key choices, first think through how your programs tie to your business strategy. The questions in this infographic aim to guide you to understand how to flip your development programs from "training events" to "strategic investment," making leaders your number one priority.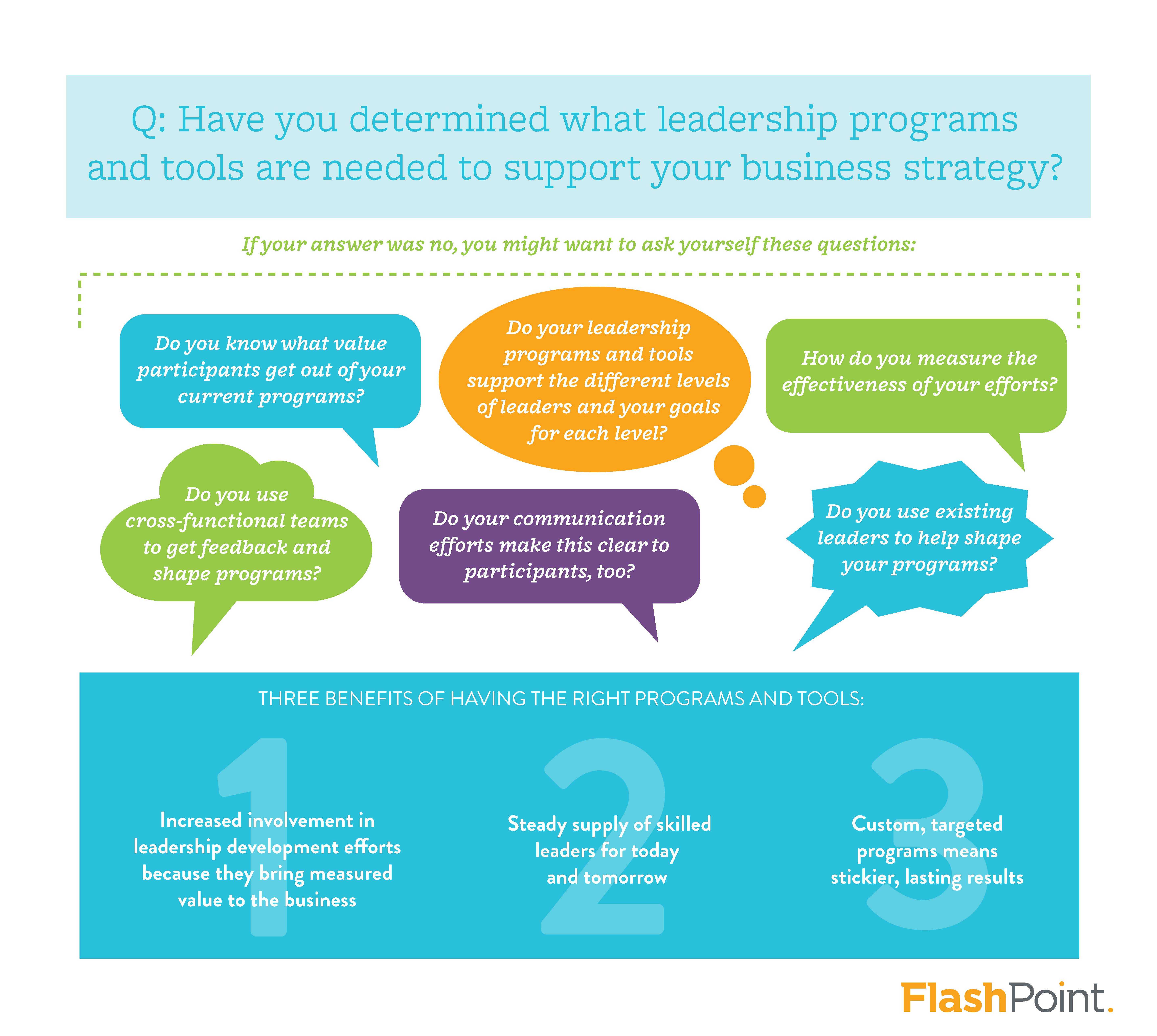 If you answered "yes"—excellent! You are on your way to a strategic, results-driven approach to leadership, which drives business impact.
If you answered "no," all that means is (just like most everybody) you have some opportunities to strengthen your approach. Of course, FlashPoint is happy to help. If you'd like us to help you work through this process of deciding how best to develop your leaders and build your leadership pipeline in a more strategic way, contact us, or download a decision-tree tool we created for you:
DOWNLOAD YOUR STRATEGIC LEADERSHIP DECISION TREE
Working through this process could help you achieve 12 times greater business growth, 20 times greater employee retention, eight times greater bench strength, and seven times greater business results. What could be more strategic?
---
*Infographic design by Megan Forbeck