stop thinking about Millennials entering the workforce and start thinking about them being the workforce
A recent analysis from Deloitte University Press showed millennials "have recently inched past the other generations to corner the largest share of the US labor market." While much has been written about this generation as being "loyalty-challenged" and holding personal values above organizational goals, Deloitte's new research suggests their reason for leaving organizations may be because they are "leadership-challenged."
The 2016 Deloitte study surveyed 7700 college-educated millennials from 29 countries working full time in large private sector companies (100 + employees.)
During the next year, if given the choice, one in four millennials would quit their current employer. The numbers get worse when expanded out 2-5 years:
66% of Millennials expect to leave their positions in the next 5 years.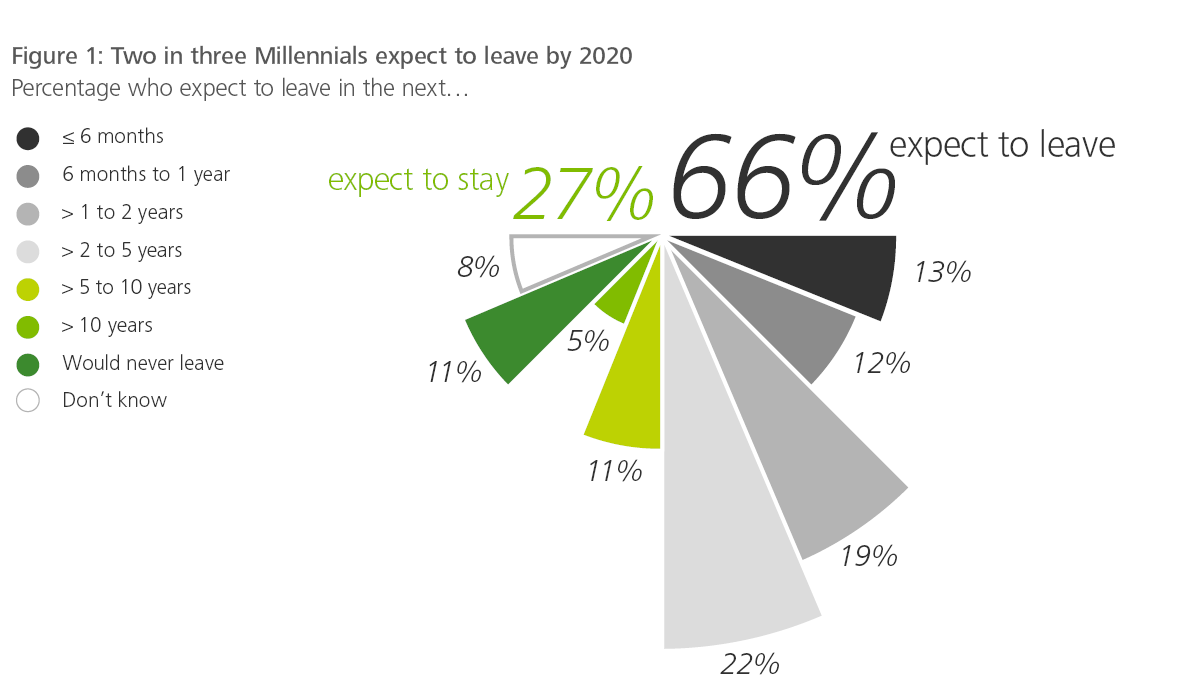 (Q: If you had a choice, how long would you stay with your current employer before leaving to join a new organization or d something different?)
Why this matters: This level of turnover is troubling, especially when this generation makes up the majority of the future workforce. So you might think that organizations are scrambling to train, promote, accelerate and incentivize Millennials, right? Perhaps not - recent similar findings by Brandon Hall Group's 2015 State of Leadership Development Study reports that only 20% of organizations identified Millennial leaders as critical for develop over the next 24 months. In addition, the Deloitte study reports:
63% of millennials say their "leadership skills are not being fully developed."
This number has actually gotten worse since Deloitte's 2013 study, when 49 percent of millennials had this complaint.
The Loyalty-Leadership Gap
Interestingly, the perceived value of leadership development has increased for millennials over their tenure in the workplace. Survey respondents rated "leadership" as one of the most valued skills and attributes that businesses place on an individual, but businesses were doing very little to give them the opportunity to develop this skill set.
Deloitte found that although the most likely to leave were unhappy with how their leadership skills were being developed, a clear line could be drawn between loyalty and leadership when millennials were given the opportunity to receive leadership training (note the increase in "loyalty statistics" in the below image.)
The most loyal, or willing to stay, employees were the ones reporting access to leadership roles: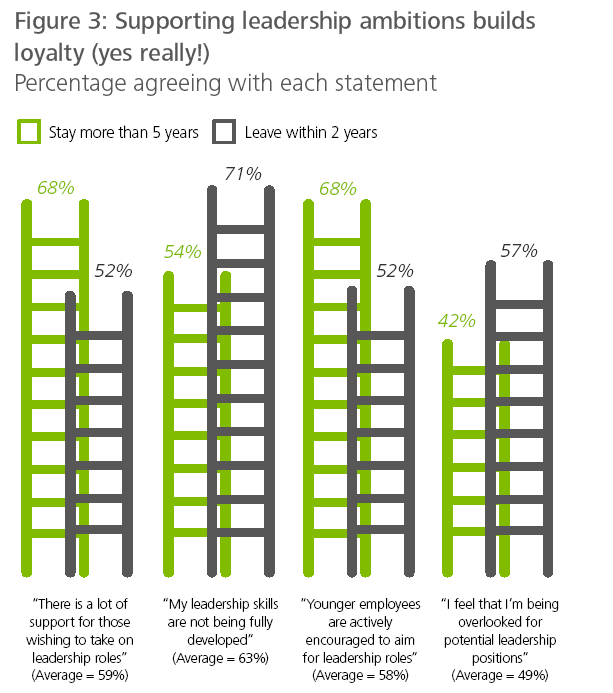 (Q."Thinking about the support your organization offers you in regards to taking on leadership positions, to what extent do you agree or disagree with the following statements?)
Deloitte's Millennial Survey uncovered numerous interesting points about millennials in the workplace and their willingness to "walk" when the values they perceive as important are not met, but the immediate need remains clear: millennials are receptive to, if not demanding, an occasion to increase their leadership skills.
An organization that focuses on training this "now" generation of leaders, whether through an emerging leader program, coaching, mentoring, or leadership development training, just may have a competitive advantage to retain, if not recruit, this important segment of the workforce.
Resources: Deloitte's Millennial Survey: http://bit.ly/21TyEKy
---