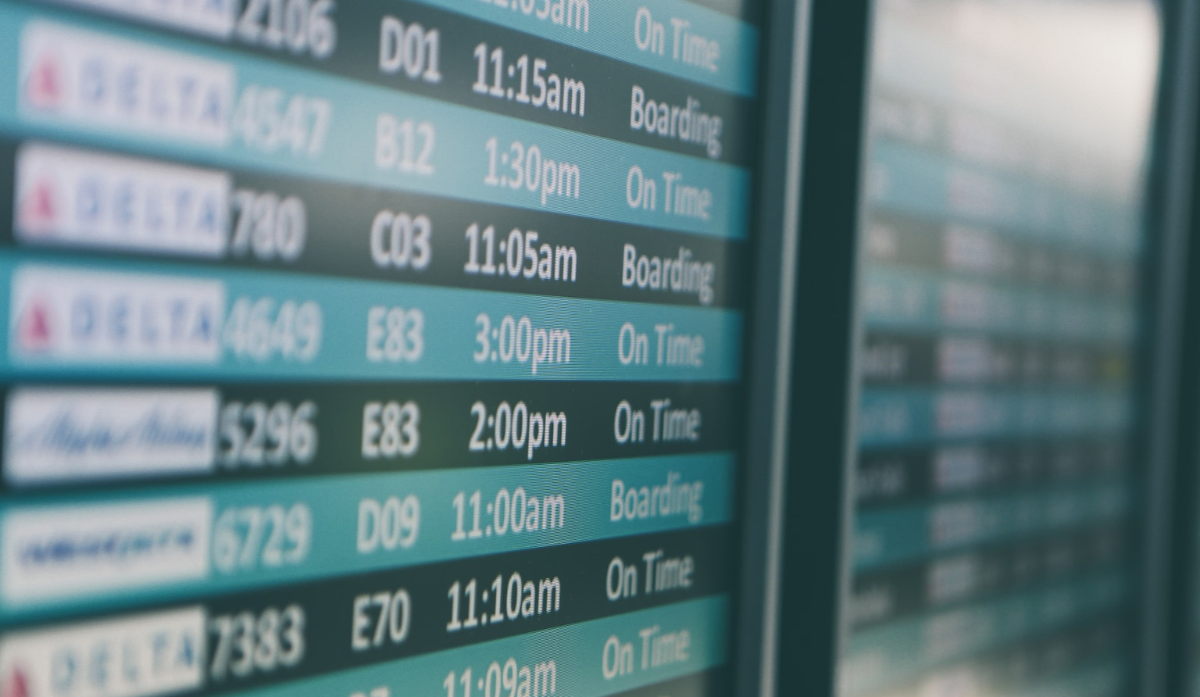 You can Probably Relate to These Leadership Challenges
"Attention in the gate area, attention in the gate area: Flight 208 scheduled to depart at 4:30 p.m. from Gate 32 for Los Angeles will now depart at 8:30 p.m."
It's the holiday travel season, and if you are traveling in, or through, the United States, it is one of the busiest it has ever been, post-Covid.
Now that your flight is delayed, after some serious "ugh-ing" and probably some expletives, you might ask: "What am I going do for the next 4 hours in the airport?"While you may not know what to do with your time in the airport beyond phone calls, streaming Tik Tok videos, reading social media, doing some work, or sleeping on the floor, there are teams of people at every one of the 5,000+ public airports in the United States that think about what you can do for the next 4-hours, if not the whole day!
Over the past couple of years, many of us have personally experienced having our flights delayed and outright canceled, and not just because of the weather. Flights are continually being delayed and canceled due to a lack of available pilots and flight crews.
Both situations are frustrating and unintentionally designed to test our resolve. The airlines have taken a lot of grief for not catering to the needs of the passengers, for years. Sure, you can read about how the major US airlines all received high levels of financial support from the US Federal Government to ensure their solvency while simultaneously preventing the collapse of the US airline industry. In return, your airline will now happily give you a $12 voucher for a "meal" when delayed for 3+ hours and a hotel voucher if you are delayed until the next day.
In defense of the airlines, they are simply attempting to get you from Point A to Point B as safely and quickly as possible and with limited resources. When they are not able to do that, passengers are left to sit and wait and wait and then wait some more with no assurances their flight will even leave.
That's where the hidden strengths and challenges facing airport leaders come into play: These teams are constantly thinking, planning, strategizing, and preparing how to make your airport experience the best it can possibly be.
It is the Executive Leadership teams at your airport that are modeling the way for the best possible airport experience and how to make it as seamless as possible whether you are there for 75 minutes, 4 hours, or longer. Keep in mind, you as a traveler, are there for only one day. Airport executives are catering to hundreds of thousands and millions of travelers, 7 days a week!
Like the US airlines, many of our nation's airports have also received federal funding. The difference is, executive airport leaders across the country all seem to share an inspired vision to create the best airport experience for you and are investing in creating cohesive internal teams to facilitate every part of the airport—from parking, check-in stands, sanitation, fire, police, security, etc. At the same time, they are putting together plans for upgrading and expanding your airport with technology, amenities, food choices, and experiences.
Airport technology might now include apps to help you navigate through the airport, free virtual booking systems that allow you to book a spot in the security line, or CLEAR®, the retinal-scan technology that allows you to go straight to the front of the TSA-Pre-Check® line. Talk about a great experience!
Amenities could include everything from windows that tint as the sun gets stronger later in the day, private quiet and nursing rooms, baby changing stations in the "men's" bathrooms, charging stations, working desk areas, seating areas in baggage claim, and even pet relief areas. Experiences range can range from (of course,) shopping, world-class art installations, or canine therapy where travelers volunteer to walk dogs. One airport now has a drug-sniffing llama! (If you are lucky enough to travel frequently through the San Francisco Bay Area, you may even catch a glimpse of the first official therapy pig, LiLou, who has multiple outfits and can play a tiny piano.)
Airport leaders are also tasked with making executive decisions on everything from which airlines are going to get more gates when they expand to whether a Chik-Fil-A should be in your airport even though it's closed on Sundays but generates more revenue in 6-days vs. other similar style restaurants do in 7-days, or to have a tapas bar that serves Iberico pork meatballs, unique local libations, and dulce de leche/bananas/espresso pie. Quite the range.
There is no question that airport leaders have a lot on their plates. (We didn't even get into what happens when something crazy happens, like Hurricane Ian.) These executives need to stay nimble. Implementing leadership development and team effectiveness solutions that enhance team performance, enables them to practice healthy behaviors around accountability, trust, and sharing a common language and results, all while becoming higher performing teams designed to serve: You.
As you ready yourself for your next trip to the airport, please take a moment to acknowledge that someone on your airport's executive leadership team is striving to make your airport experience the most positive experience possible. While you are at it, maybe take in some art, eat well, check out the architecture, relax, and most importantly, when your plane does board, travel safely.
FlashPoint is proud to align its 20 years of leadership development and team effectiveness solutions for airports and the other F1000 companies we serve. Read our case study on the innovative ways we worked with an award-winning airport authority to increase performance across all levels of employees.
---