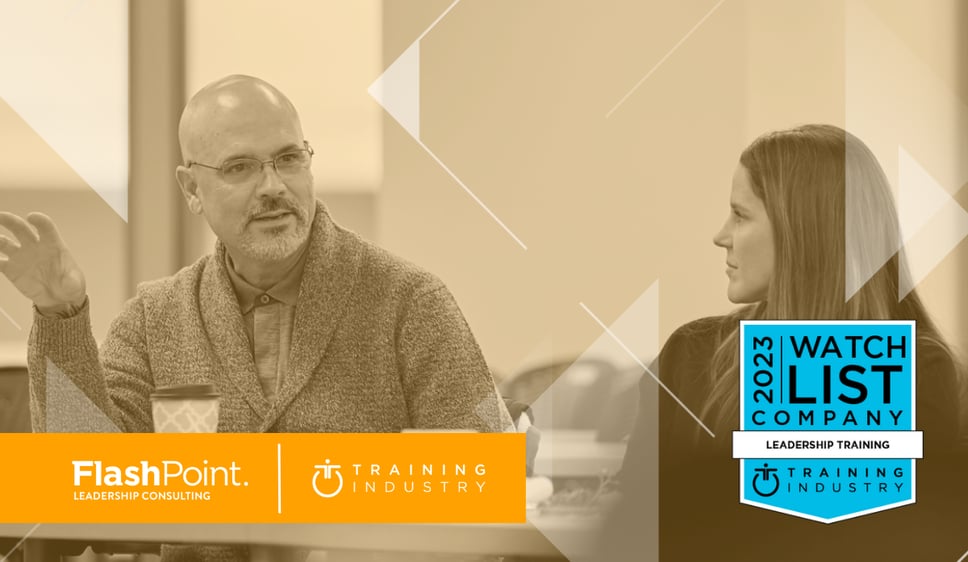 FlashPoint is honored to share that we've been chosen by Training Industry for the 2023 Top Leadership Training Companies Watch List.
"We are honored to be listed amongst these prestigious companies who have a shared passion for leadership development," said Krista Skidmore, CEO & Founder of FlashPoint. "The heroes of our story are our dedicated and highly invested clients who bring their best each day. It's truly a privilege to co-create and serve with them to make leaders more effective through our programs."
We are thrilled to be acknowledged for this prestigious award and we thank Training Industry and our generous community for their support. Training Industry is the most trusted source of information on the business of learning. Their authority is built on deep ties with more than 450 expert contributors who share insights and actionable information with their peers.
"The unique and emerging companies chosen for this year's Leadership Watchlist bring specialized leadership content from around the world," said Tom Whelan, director of corporate research at Training Industry, Inc. "These companies bring a diverse set of training topics in different modalities, such as formal and live coaching, instructor-led courses, digital content both custom and off-the-shelf, simulations and more."
Selection to the 2023 TRAINING INDUSTRY TOP LEADERSHIP TRAINING COMPANIES list was based on the following criteria:
Breadth and quality of program and service offerings.
Industry visibility, innovation, and impact in the leadership training market.
Client and customer representation.
Business performance and growth.
FlashPoint is a leadership consulting firm specializing in leadership development, team effectiveness, and coaching. Delivering leadership solutions that have a measurable and lasting impact is at the core of what we do. We work with our clients to achieve their business goals, ensure their leaders are highly engaged, and make their teams more effective. FlashPoint partners with clients on:
LEADERSHIP DEVELOPMENT
Custom Leadership Development Programs
Workshops and Facilitation
Competencies Development
Leadership Development Strategy
TEAM EFFECTIVENESS
Custom Team Programs—Retreats, Training, Assessments
Team Development
New Leader Assimilation
COACHING
Individual Coaching
Team/Group Coaching
Coaching Skills Training
As an Outsourced Coaching Partner
As a boutique firm and Woman-Owned Small Business, we can be nimble in an ever-changing landscape and work with you to achieve real and lasting results.
In addition to our custom programs, FlashPoint is the #1 provider of The Leadership Challenge® and The LPI®: Leadership Practices Inventory®; a Diamond-level provider of Everything DiSC® and The Five Behaviors®; and an Authorized Provider of The 4 Stages of Psychological Safety™.
---