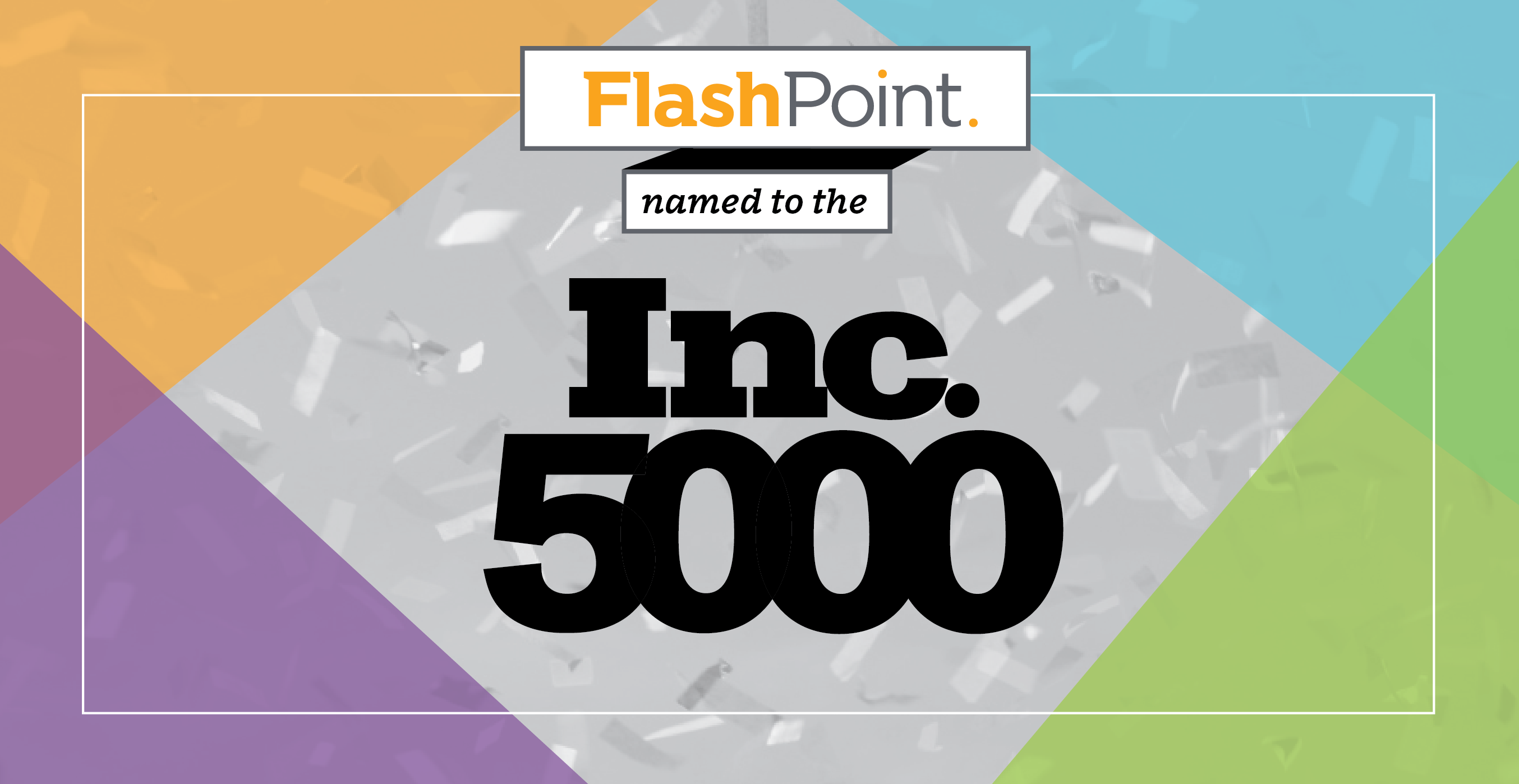 FOR IMMEDIATE RELEASE
INDIANAPOLIS—Aug. 17, 2016—Inc. magazine today added FlashPoint to its 35th annual Inc. 5000, an exclusive ranking of the nation's fastest-growing private companies. The list represents the most comprehensive look at the most important segment of the economy—America's independent entrepreneurs. Companies such as Yelp, Pandora, Timberland, Dell, Domino's Pizza, LinkedIn, Zillow, and many other well-known names gained early exposure as members of the Inc. 5000.
"We know that the No. 1 predictor of business success is the depth and quality of your leadership," said Krista Skidmore, who partnered with Andrea Davis to launch FlashPoint in 2002. "That's why we deliver leadership development solutions as a means to increase business performance."
FlashPoint acquired Sonoma Leadership Systems of Sonoma, California, on July 31, continuing the Indianapolis-based firm's high-growth trajectory. Last year the firm posted an 85 percent increase in national accounts alone.
FlashPoint's clients include Patagonia, Samsung, Travelers, Nestle USA, University of California–Davis, Simon, Roche Diagnostics, BMW, Vera Bradley, Republic Airways Holdings, and Edward Jones.
"We've pursued growth because it gives us more capacity to serve our clients and more expertise to offer them," said Davis, whose firm is the No. 1 provider of The Leadership Challenge®, a research-based leadership development program designed to enhance the leadership effectiveness of any leader, regardless of position or organization.
"The story of this year's Inc. 5000 is the story of great leadership. In an incredibly competitive business landscape, it takes something extraordinary to take your company to the top," says Inc. President and Editor-In-Chief Eric Schurenberg. "You have to remember that the average company on the Inc. 5000 grew nearly six-fold since 2012. Business owners don't achieve that kind of success by accident."
About FlashPoint
Established in 2002, FlashPoint is a leadership consulting firm that delivers creative and measurable solutions to make leaders, teams and organizations more effective. Working with clients in a variety of sectors and industries, FlashPoint strives to create meaningful workplaces by growing leaders and organizations to achieve their fullest potential. To broaden its national reach, FlashPoint acquired Sonoma Leadership Systems in 2016, and is now the No. 1 provider of The Leadership Challenge®.