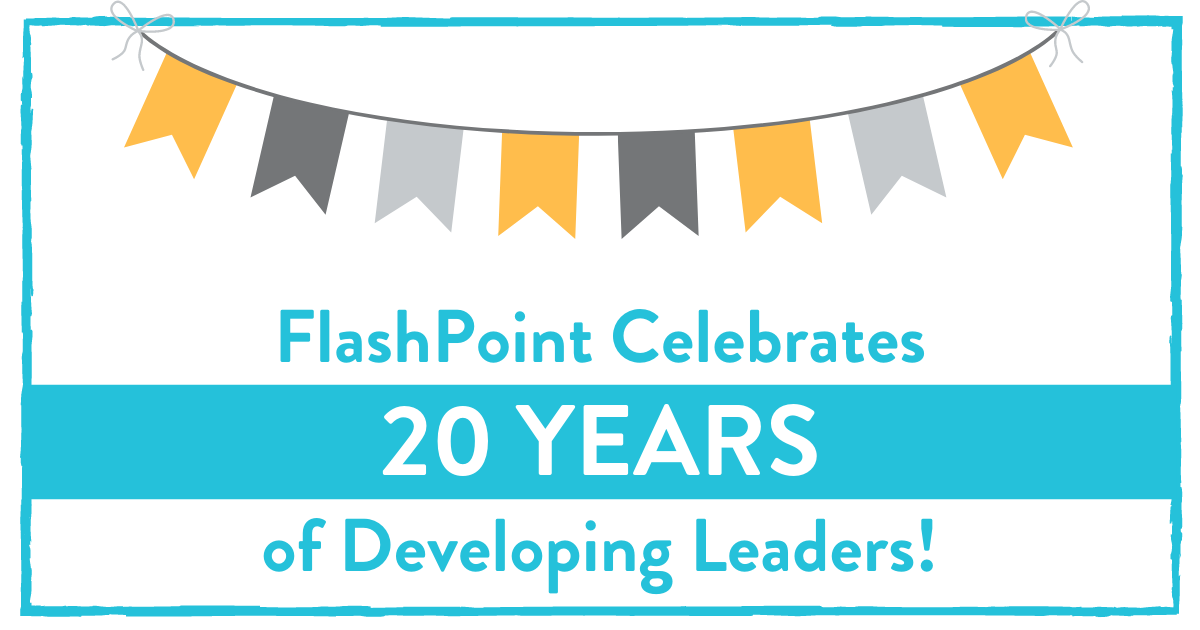 A Brief History of the Evolution of FlashPoint
Throughout our 20-year history, FlashPoint has been no stranger to change. We have seen tremendous disruption to how organizations treat talent—the human side of business. Throughout the history of FlashPoint, we've worked hard to anticipate and adapt to change, and we are grateful for the clients, past employees, and friends of FlashPoint who have added to our legacy over the years. We would not have reached this milestone without each and every one of you and we're grateful for those partnerships—
In this reflection, we catch up with CEO and Founder Krista Skidmore to reflect on the history (and future) of FlashPoint.
Krista Skidmore founded FlashPoint in 2002 with the aim to make the workplace better and to improve human potential with effective human resource programs. Growing up, Krista's family instilled in her the strong value of being in service and believing she can make a difference in the world. In retrospect, this profoundly influenced her belief that she can, in turn, make a difference to others in the learning and development field.
FlashPoint's Beginnings
As an undergraduate, Krista was introduced to the evolving human resources profession through a trusted advisor and mentor. As a double major in psychology and business, the HR field was a natural fit and helped her combine her interests and put those two schools and degrees together and think about the workplace in a new and meaningful way.
As the human resources field was evolving from a compliance-driven function to a humanistic one, Krista recognized the opportunity to help employees connect in a more deep and meaningful way in the workplace. Through early internship opportunities in HR, Krista cemented her interest in the talent acquisition, recruiting, and onboarding space and learned a great deal about career development and talent management. This led her to analyze what people are looking for as they consider going to a new employer, what's important to them, what helps them be at their best, and what kind of leader and boss are they looking for.
As Krista's interest in human resources was solidified, so was her interest in leader development. She became fascinated with how important the role of the leader and the manager is, and how someone else can come alongside you at the right time in your life and the right time in your career and create an environment where you can reach your full potential.
After working for several years in the HR and talent field, Krista recognized that she could make a difference and fulfill that sense of building community by forming her own business—and FlashPoint, Inc. was incorporated in 2002.
Human Resources Takes Center Stage—The First Wave
FlashPoint started out as a resource for "everything HR." As the human resources and talent management field has grown and evolved, a hallmark of our approach has been to be ahead of the curve, anticipate trends, and be researched and knowledgeable enough to know when the business needed to turn and pivot to increase our impact over time and to best help others reach their potential for growth.
Now, throughout our 20-year history, we can look back and recognize that the trajectory of FlashPoint had waves, iterations, and innovations that have followed alongside how the human resources field has evolved in its function.
Focus on Talent Management–The Second Wave
In 2010, Krista and the principals at FlashPoint pivoted to focus in on talent management. This positioned FlashPoint away from a broader HR compensation, benefit, and recruiting firm to a more agile and focused firm specializing in employee engagement, retention, leadership development, and building great talent processes, from succession planning to performance management and the incorporation of HR technology.
This move to talent management necessitated a big shift in the business—and a big risk. By divesting of the transactional HR portion of the business and buying out a foundational partner, FlashPoint entered the second wave of business, paralleling the evolution of the human resource field as it also began to take a seat at the leadership table and became recognized as a C-level function in business, and not just a compliance or process-driven function.
The Rise of Leadership Development—The Third Wave
In 2016, FlashPoint moved to the national stage and rebranded to focus exclusively on leaders and teams and began offering research-based, proven models of leadership, team development, and coaching alongside the consultative side of the business. Through the acquisition of Sonoma Leadership Systems, FlashPoint became the largest global provider of The Leadership Challenge® in the world.
By focusing on leaders and teams using measurable, research-based solutions, FlashPoint has become one of the premier boutique leadership firms in the country. We have continued to expand into global work and have decades of experience working alongside organizations committed to developing a mature leadership function and multi-year approach to leader development.
During the pandemic, we rallied to bring our clients quality virtual offerings, and now we have shifted yet again to hybrid experiences. No matter what might be next, we're incredibly excited about what the next ten years in leadership development might bring.
Steering Into the Future With Agility
It's an interesting time for all organizations as we think about the pandemic—its influence, its disruption, and the acceleration of trends. From a market factors standpoint—everything from The Great Resignation to hybrid dispersed workforces, decisions about returning to the office to not returning to the office—the trend we're now seeing is a general shift in what employees are willing to or not willing to tolerate from their bosses. If leaders are not enabling teams in a positive manner and are not committed to diversity and inclusion, employees are making it clear that they will move on.
Our commitment at FlashPoint is to come alongside leaders and provide them with opportunities to truly connect to who they are as a leader. We strive to provide moments when the light bulb comes on for leaders about the influence and impact they have and the ripple effect of recognizing how good treatment or bad treatment at work affects us very holistically. At FlashPoint, we feel fulfilled knowing that everything we're doing collectively adds up to not just better productivity, better work outcomes, and better team outcomes, but better lives for the leaders that we work with—whether in workshops, coaching, or team retreats.
This impact drives all of our team members at FlashPoint. Over the years, we've been able to create a home for people who are passionate about making a difference in their world through their skillset. It doesn't matter what position you're in or what your title is at FlashPoint, we all contribute to making a difference in this world in our own unique way.
FlashPoint is a partnership that you can count on and a relationship that you can build on over time—and we hear this all the time from our clients. Some of our client partnerships are over a decade long, and even if a client moves organizations, they will bring us with them because they see our commitment and passion to this work and to their leaders and teams. They see that we really care about what we're doing and that we want to make an impact.
FlashPoint has always strived to be a leading-edge, creative, and dynamic company in terms of defining trends, incorporating best practices, and evolving what we do and how we reach people. As we sit at the epicenter of all of that activity, FlashPoint is poised to provide the marketplace with a fresh look at the skills leaders need to unlock their next-level leadership experiences in the decades to come.
The love of leadership and leadership development really brings us full circle and propels us into our next iteration of FlashPoint.
---