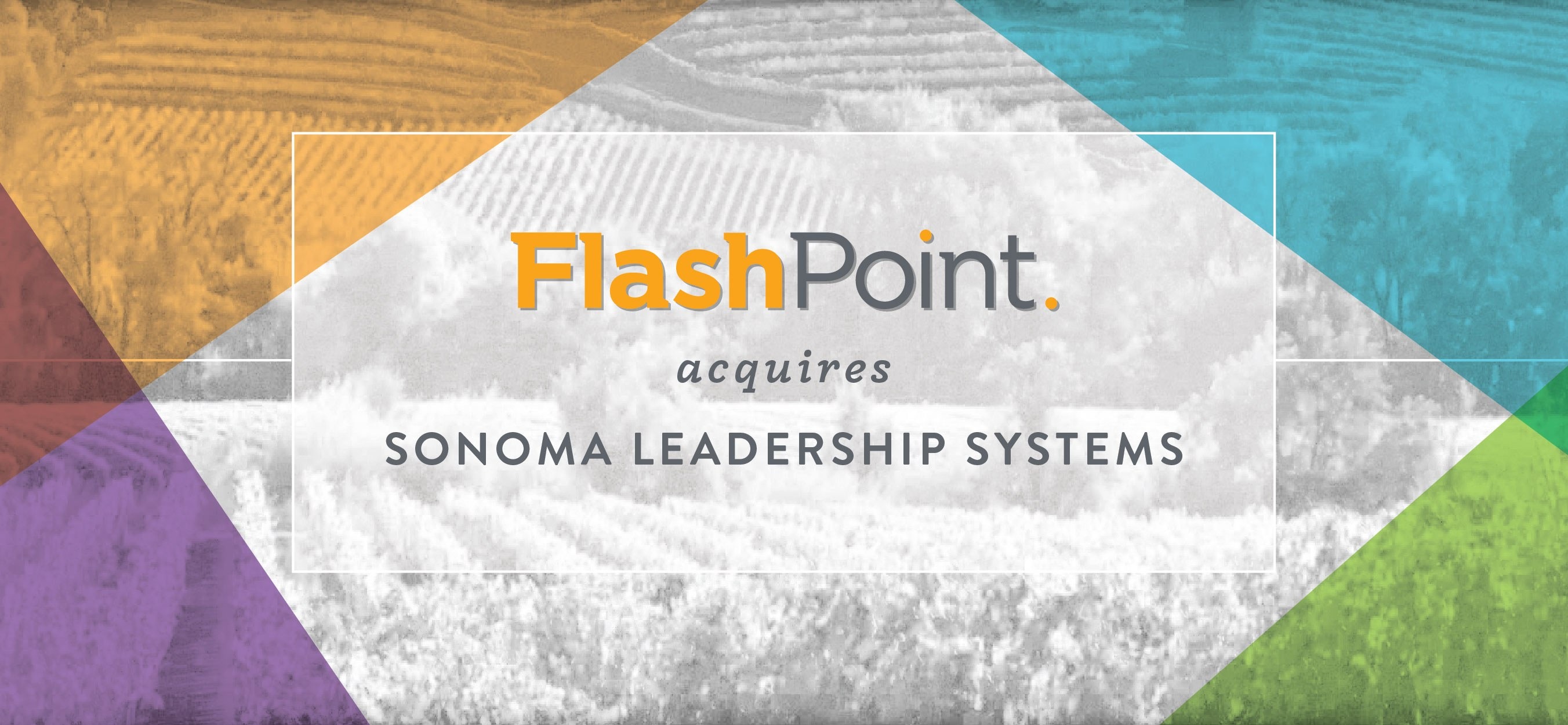 FOR IMMEDIATE RELEASE: FlashPoint acquires Sonoma Leadership Systems
INDIANAPOLIS - Aug. 1, 2016 - Leadership consulting firm FlashPoint has acquired Sonoma Leadership Systems of Sonoma, California.
The two firms, both nationally recognized in the leadership consulting industry, closed the deal on July 31.
The acquisition continues Indianapolis-based FlashPoint's high-growth trajectory. Last year, the firm posted an 85 percent increase in national accounts alone. Sonoma Leadership Systems, founded in 2005, is the No. 1 provider of The Leadership Challenge®, a research-based leadership development program designed to enhance the leadership effectiveness of any leader, regardless of position or organization.
"We know that the No. 1 predictor of business success is the depth and quality of your leaders," said Krista Skidmore, who partnered with Andrea Davis to launch FlashPoint in 2002. "Through this acquisition, we will increase our capacity to develop even more leaders."
FlashPoint had been analyzing the market, looking for strategic growth opportunities, so when Skidmore and Davis learned that Sonoma Leadership Systems founder, Jeni Nichols, was planning to retire, they recognized an opportunity to add a high-quality, high-impact organization to its team.
"We're pursuing growth because it gives us more capacity to serve our clients and more expertise to offer them," said Davis, whose firm will now be the No. 1 provider of The Leadership Challenge®.
Sonoma Leadership Systems will remain in Sonoma but operate under the FlashPoint name. The popular leadership seminars for which the firm is known will continue.
Collectively the two organizations are actively working with more than 150 clients. FlashPoint's clients include Simon, Roche Diagnostics, BMW, Vera Bradley, Republic Airways Holdings, and Edward Jones. Sonoma Leadership Systems works with Patagonia, Samsung, Travelers, Nestle USA, and University of California, Davis.
"I know my clients will be in good hands," said Nichols, who will remain with the firm on a consultant basis for six months. "I am confident the level of service will remain high, and that clients from both firms will benefit."
Established in 2002, FlashPoint is a leadership consulting firm that delivers creative and measurable solutions to make leaders, teams and organizations more effective. Working with clients in a variety of sectors and industries, FlashPoint strives to create meaningful workplaces by growing leaders and organizations to achieve their fullest potential. To broaden its national reach, FlashPoint acquired Sonoma Leadership Systems in 2016, and is now the No. 1 provider of The Leadership Challenge®.