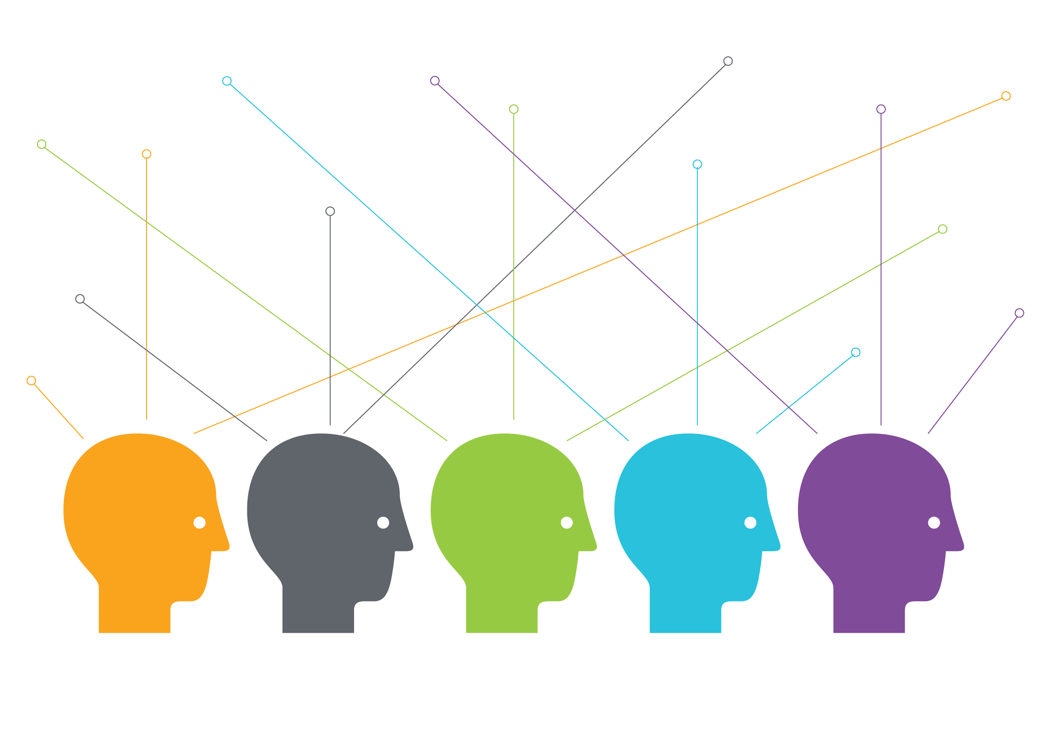 Which one are you?
My background is in graphic design. Graphic designers LOVE to talk about rebrands—all of the factors that drove them to the incredible new "look and feel," the gorgeous new typography, the stunning color palette, and let's not forget the strong promise for a brighter, better future, courtesy of the latest and greatest design components.
All of this is fine and well, but I'm also a realist. And at FlashPoint, our rebrand story is really about the amazing people we get to work with every day. They're the ones who inspire us to be the best versions of ourselves as a company. And they're the ones who brought us here. Truly.

Let me introduce you to our people–our clients, our readers, our program participants–and why this website matters to them. (In fact, if you're reading this, you're probably one of them.)
THE RESEARCHERS
Researchers love to learn as much as possible. They are often experts in their field but believe there is always something more to be aware of. They are excited about new ideas and challenge themselves to know the latest in leadership so that they can bring the very best and proven practices to their organizations.
For the researchers, we completely retooled our blog. Posts are sorted by category (leadership development, team effectiveness, coaching), post type (infographic, guide, article), and author so that researchers can get right to expanding their knowledge with guides, infographics, and up-to-date leadership insights.
THE PARTICIPANTS
Participants are active people. They never stop doing things, meeting people, and expanding their networks. They learn by doing, sharing, connecting, and learning from others. They strengthen their organizations because they drive progress and engagement.
For the participants, we reimagined our events page. The entire website is mobile friendly, but the events page makes it easier than ever for people on the go to sign up for FlashPoint's virtual and in-person events. Say "hello" to building skills and engaging with others in the field, participants!
THE IMPROVERS
Everyone loves the improvers. Improvers want to be the best version of themselves by helping their own organization become the best version of itself. They are always looking for opportunities to gain a strategic advantage and drive better business results. They are thoughtful, balanced, and see the bigger-picture context of how their decisions impact the bottom line.
To support the improvers, we updated our case studies. These in-depth guides tell the story of how other organizations have used leadership to improve business results. Case studies are an opportunity to read in-depth success stories about how leadership is transformative in organizations just like yours.
THE ENERGIZERS
Energizers are strong encouragers and passionate advocates. They use their influence to share with others what works and how they too can be part of successful outcomes (for the Everything DiSC® lovers reading here, yes, these would likely be the i's).
We wanted to make it as easy as possible for the energizers to share about leadership, so we've created a new content strategy that we'll be unrolling throughout the next couple of months on Twitter, Facebook, and LinkedIn. We've also added sharing functions at the bottom of each and every blog post. The more sharing, the better; correct, energizers?!
THE FAMILY
Finally, this website is for the group we affectionately call our "FlashPoint family and friends." We've worked with hundreds of clients to strengthen thousands of leaders. The majority of our clients we work with for many years and on a very collaborative level, so we deeply value the power of long-term partnerships and the mutually beneficial cross-sharing of information.
To support our ongoing relationships and make it easier to create more, we've adjusted our email updates (sign-up also at the bottom of each page). We hope you'll find the event opportunities, guides, and latest in leadership news to be a source you look forward to receiving.
Thank you to our incredible clients and partners who made this new site possible. It began with client feedback and has evolved significantly to fit your needs. We have learned so much from each of you–the researchers, participants, improvers, energizers, and family–and we can't wait to see what the future holds as we continue to evolve our business to meet your needs.
(Oh, and the graphic designer in me LOVES our outstanding new color palette, gorgeous typefaces, and ridiculously responsive website design—thanks to our partners at Tactic for their help.)