Cohesion, working together effectively, and producing results are high priorities for teams today more than ever with many leaders working remotely.
FlashPoint's original program, Team Excellence™, is an interactive, facilitated process to support teams as they pursue better alignment and collaboration, no matter the culture, challenges, opportunities, and strengths of your organization.
Team Excellence™ Process and Outcomes
Our Team Excellence™ program features a facilitated process designed to use both individual and team development activities over the course of six months to one year. Teams will follow a dual track of team and individual development utilizing best-in-class pre-work, team assessments, individual coaching, and facilitated team sessions to ensure the team achieves results.
Through a team assessment, focused and actionable retreat, follow-up team observation, coaching, and assessment of progress, we help teams implement and sustain meaningful changes around cohesion and team results. We can deliver this program through in-person, virtual, or both in-person and virtual sessions.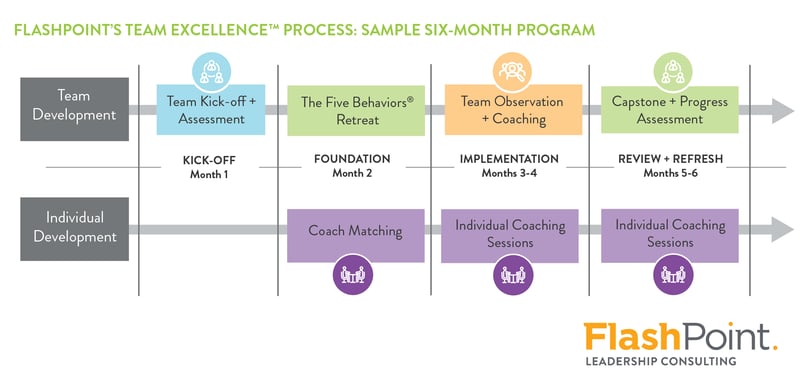 Benefits of Team Excellence™:
Teams function at a higher level with less distraction and stress
Team members better understand themselves, the personalities on their team, and how they can effectively work together
Teams avoid potential problems and conflicts due to lack of understanding of the team's priorities and agreements for interaction
Team members will create a contract about how the team will succeed and help create a culture of accountability
Leaders and teams stay on track and keep momentum with the structured yet personalized facilitated process
At FlashPoint, we specialize in helping teams achieve their potential, and our Team Excellence™ program builds and sustains team cohesion and results. Contact us for more information.