Empower Your Managers With The Coaching Clinic™
Want to learn more about The Coaching Clinic? Watch this one-minute video to learn about the participant experience and what to expect. You can also download an overview of the program.
Coaching is the master skill in today's rapidly shifting workplace: it promotes accountability and adaptability and applies to every aspect of a manager or leader's role. In The Coaching Clinic™, managers learn how to use coaching for every single what in their job so that they can take their performance and their direct reports to a higher level of success.
The Coaching Clinic™ program creates a competitive edge for your team and organization with improved performance and relationships, stronger accountability, increased employee retention, and greater team results.
ABOUT THE WORKSHOP
Our Coaching Clinic™ workshop is an opportunity to learn and practice foundational coaching skills in a two-day intensive program.
Participants discover their natural coaching style and how to adapt it to be more effective, plus learn an easy-to-use coaching model with numerous opportunities to practice it over the two days with other participants using real-life scenarios.
Learning–just like a coaching conversation–isn't complete without a plan to act. Participants will create a personal action plan that focuses on outcomes and how to apply new skills on the job and will have an opportunity for a one-on-one individual practice coaching call with the facilitator as follow-up after the session.
The Coaching Clinic™ Model: The Coaching Conversation Model™
About the facilitator
Linda Dausend has been a licensed facilitator of The Coaching Clinic™ for more than 10 years and is a firm believer in the power of coaching in the workplace (as well as in her personal life) – the first thing she shares with participants is her story about how The Coaching Clinic™ changed her life.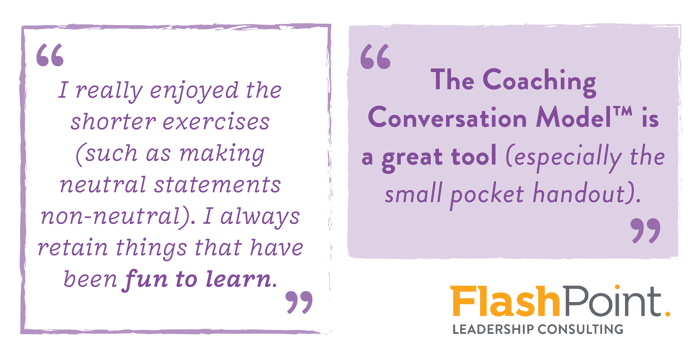 Participants WILL LEARN. . .
How a coach approach and just-in-time feedback can improve leadership effectiveness
How to use coaching to strengthen trust, increase employee engagement, build confidence, and improve performance
Self-awareness around personal coaching styles (through the PCSI™: Personal Coaching Styles Inventory™) and how to shift that style to accommodate the styles of others
The memorable five-step Coaching Conversation Model™: Establish Focus, Discover Possibilities, Remove Barriers, Acknowledge Awareness, and Plan the Action
Easy-to-implement coaching skills that generate clear commitments and engage employees in achieving their full potential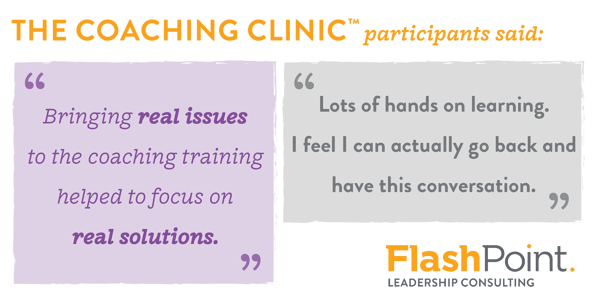 "The practice sessions were very helpful – talking about practices isn't the same as implementing them."