March / April 2021 Virtual Leadership Training for Leaders and Teams
The Leadership Challenge Online
Attend FlashPoint's highly engaging virtual leadership training as an individual or send your team! Our optional Facilitator Training will help you to bring this program to your organization or facilitate the program as a consultant. In addition, we offer an additional deep dive into coaching to the LPI®.
The Leadership Challenge® Workshop -
SOLD OUT
When: Tuesday, March 9 & Thursday, March 11, 2021,
7:00 a.m. - 3:00 p.m. PT / 10:00 a.m. - 6:00 p.m. ET
Tuition: $2295
Facilitator Training -
REGISTRATION CLOSED
When: Monday, March 15 & Tuesday, March 16, 2021,


7:00 a.m. - 3:00 p.m. PT / 10:00 a.m. - 6:00 p.m. ET

Tuition: $2495
LPI® Coach Training
When: Monday, April 19 & Tuesday, April 20, 2021,
8:30 a.m. - 12:30 p.m. PT/ 11:30 a.m. - 3:30 p.m. ET
Tuition: $2095 ($1395 if attending Facilitator Training)
WAIT LIST OPTIONS
For sold out dates, you can email us at hello@flashpointleadership.com to inquire about seats if they become available, or register for our next available program.
Register Now to Secure Your Seat!
Not ready to register? We have many ways we can help you implement this powerful tool in your organization, make the business case, or get buy-in. Scroll down to get started.
YOUR EXPERIENce
When you attend The Leadership Challenge® Workshop online with FlashPoint, you will engage in a variety of learning methods before, during, and after the two-day session. Here's what you can expect at every stage of your development:
Before the Workshop: Once you register, you'll complete the LPI® 360-degree assessment (including your self-assessment and inviting others to complete it) and prepare pre-work assignments.
During the Workshop: FlashPoint's virtual instructor-led classroom experience uses a variety of interactive features to bring the concepts of The Leadership Challenge® to life. Participants will experience immersive and interactive features to learn the material and explore the assessment, including small group breakouts, virtual whiteboards, chat features, polls, and quizzes.
Post-Workshop Reinforcement: Once the online session concludes, participants will keep the learning and application going with peer coaching/accountability partners, an LPI® coaching session, digital reinforcement, and LPI® 360-degree re-assessment.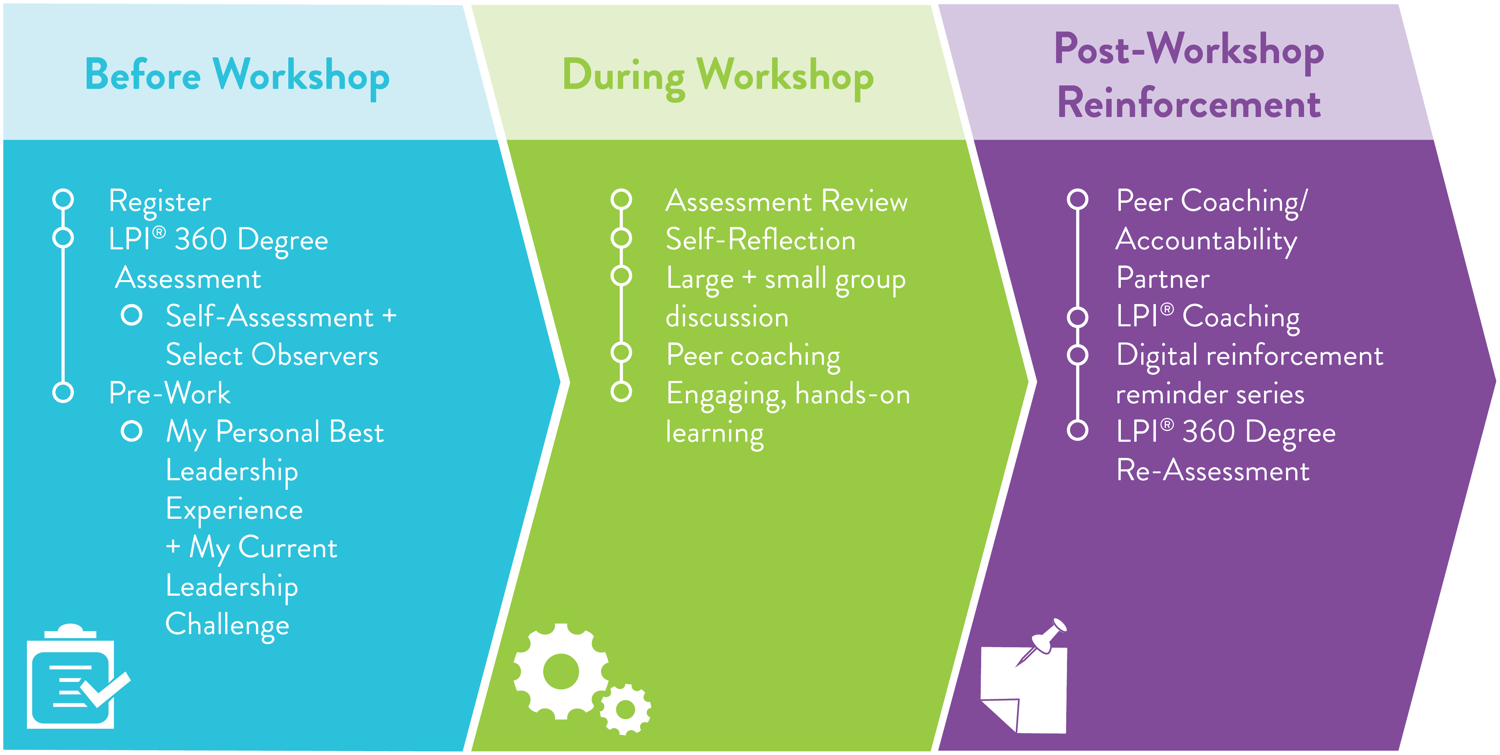 About FLashpoint
FlashPoint is the #1 Global Training Partner of The Leadership Challenge®, so there's no better partner for your leadership development!
NEXT STEPS WITH THE LEADERSHIP CHALLENGE®