WELCOME, Leader!
You're in good hands with FlashPoint. On this page, you can register for The Leadership Challenge® or learn about how you can bring this program to your organization. This March, we're offering the following development opportunities in Sonoma, California and we'd love to have you join us!
The Leadership Challenge® Workshop
Tuition: $2295.
When: March 2-3, 2020 8 a.m. - 5 p.m.
Where: The Lodge at Sonoma in Sonoma, California
Facilitator Training
The Workshop is a prerequisite
Tuition: $2495.
When: March 4-5, 2020 8 a.m. - 4 p.m.
Where: The Lodge at Sonoma in Sonoma, California
LPI® Coach Training
Must have a current (within 12 months) LPI report, or be attending a workshop/FT above
Tuition: $2095 ($700 discount if also attending Facilitator Training - $1395. Contact us for promo code.)
When: March 6, 2020 8:00 am - 5:00 pm
Where: The Lodge at Sonoma in Sonoma, California
Contact us for Group Discount information, or LPI Coach Promo Code (if also attending Facilitator Training) tupdegraff@flashpointleadership.com.)
If a different time or location works better for you, we recommend checking out our other offerings.
Register Now to Secure Your Seat!
Not ready to register? We have many ways we can help you implement this powerful tool in your organization, make the business case, or get buy-in. Scroll down to get started.
NEXT STEPS WITH THE LEADERSHIP CHALLENGE®
YOUR EXPERIENce
When you attend The Leadership Challenge® Workshop with FlashPoint, you will engage in a variety of learning methods before, during, and after the two-day in-person session. Here's what you can expect at every stage of your development:
Before the Workshop: Once you register, you'll complete the LPI® 360-degree assessment (including your self-assessment and inviting others to complete it) and prepare pre-work assignments.
During the Workshop: Participants will review assessments and learn from a variety of methods including self-reflection, group discussion, peer coaching, and hands-on learning.
Post-Workshop Reinforcement: Once the in-person session concludes, participants will keep the learning and application going with peer coaching/accountability partners, an LPI® coaching session, digital reinforcement, and LPI® 360-degree re-assessment.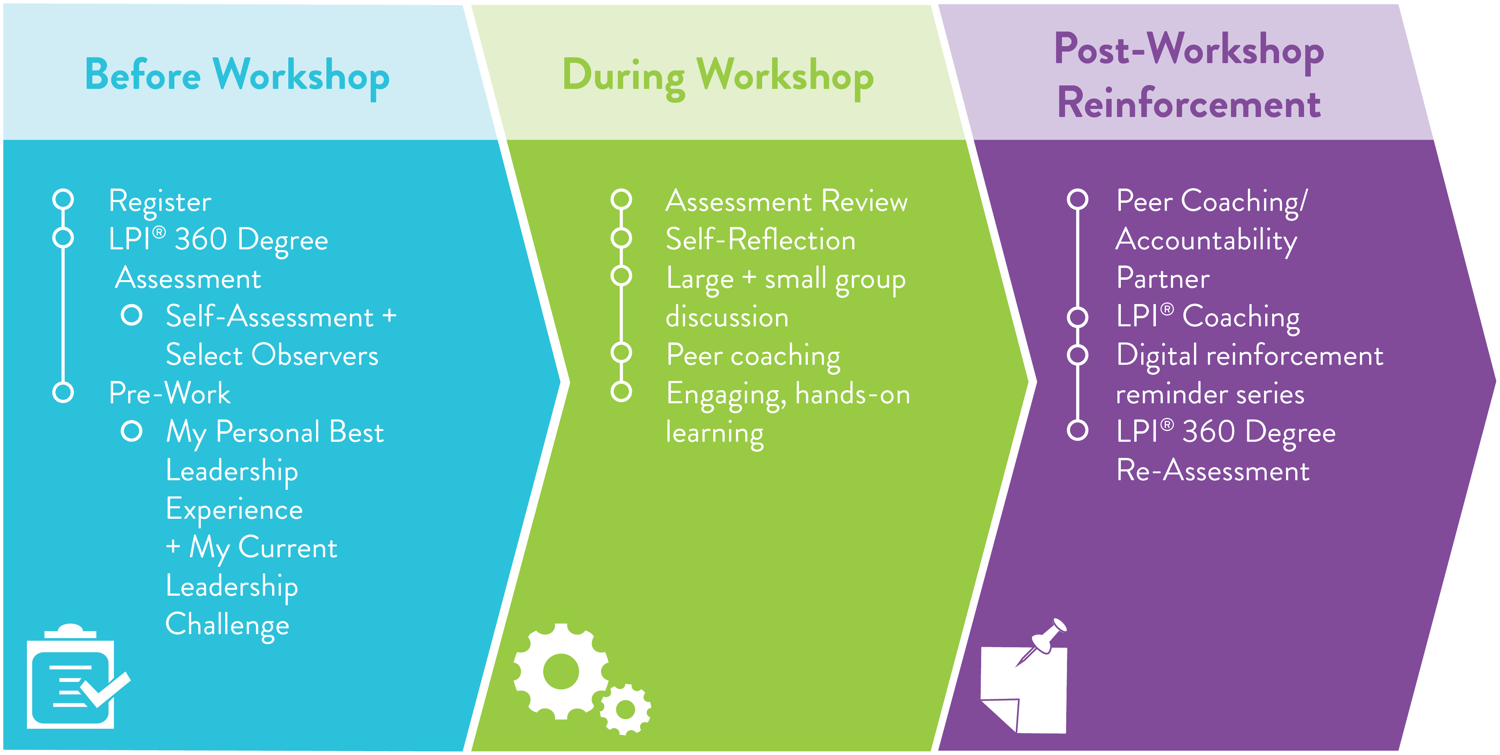 About FLashpoint
FlashPoint is the #1 Global Training Partner of The Leadership Challenge®, so there's no better partner for your leadership development!