In-Person Leadership Training for Leaders and Teams
The Leadership Challenge, June 2023
You're in good hands with FlashPoint. On this page, you can learn all the details about our upcoming in-person programs, register for The Leadership Challenge®, or learn about how you can bring this program to your organization. This June 2023, we're offering The Leadership Challenge® Workshop and optional Facilitator Training in beautiful downtown Petaluma, California and we'd love to have you join us!
The Leadership Challenge® Workshop
When: Tuesday, June 6 & Wednesday, June 7, 2023 (Petaluma, CA.)

8:00 a.m. - 5:00 p.m. Pacific Time

Tuition: $2295 (Early-bird rate, $1995 through May 5, 2023)
Facilitator Training
When: Thursday, June 8 & Friday, June 9, 2023 (Petaluma, CA) 8:00 a.m. - 5:00 p.m. Pacific Time
Tuition: $2495 (Early-bird rate $2195 through May 5, 2023)
Not seeing the products below? Visit our Online Store.
The Leadership Challenge® Workshop is a research-based, proven method to increase leadership effectiveness.
Not ready to register? We have many ways we can help you implement this powerful tool in your organization, make the business case, or get buy-in. Contact us to discuss how we can help.
The Workshop Experience
When you attend The Leadership Challenge® Workshop with FlashPoint, you will engage in a variety of learning methods before, during, and after the two-day in-person session.
Attend FlashPoint's highly engaging workshop as an individual or send members of your team. Our optional Facilitator Training will help you bring this program to your organization or learn to facilitate the program as a consultant.
You'll learn how to apply The Leadership Challenge® model—The Five Practices of Exemplary Leadership®, in a variety of situations as a leader. We use practical exercises to help you apply The Leadership Challenge® principles to build a personal leadership development plan and to improve your daily actions.
By attending our public workshop, attendees will also receive the LPI® 360: Leadership Practices Inventory®, an individual LPI® coaching session, Mindmarker mobile app reinforcement, an LPI® 360 reassessment, and a live LPI® 360 reassessment debrief webinar.
We also offer an additional online workshop for those who wish to take a deeper dive into coaching with the LPI®, see the bottom of page to register.
The Venue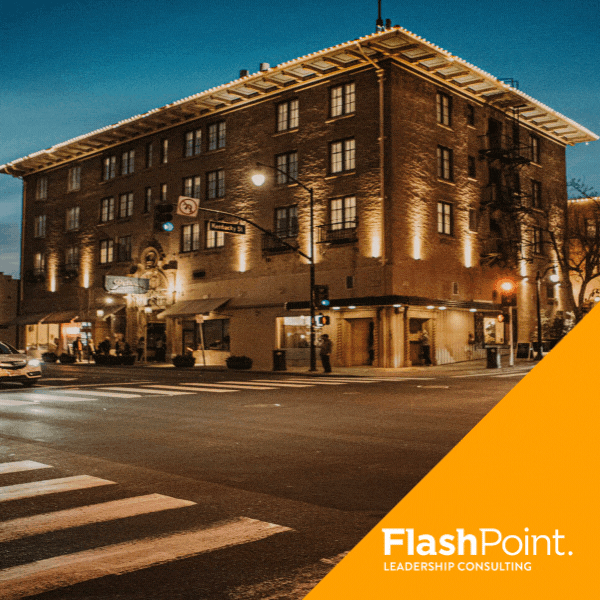 The historic Hotel Petaluma is a boutique hotel just 35 miles north of the Golden Gate Bridge and San Francisco. It is the ultimate location for exploring downtown Petaluma and California wine country.
Upon your registration, we'll send you detailed travel information and a link to book your hotel from our limited room block at the Hotel Petaluma (rooms are only available until sold out, or prior t0 30 days before the workshop, and cost $149 per night + any applicable taxes) or a list of other properties in the near area.
Hotel Petaluma
205 Kentucky Street Petaluma, California 94952
Tel: (707) 559-3393 | Reservations: (707) 559-3393
Visiting Petaluma
Travel and Covid-19 Information
The nearest airports are San Francisco, CA (SFO), Oakland, CA (OAK), or Santa Rosa, CA (STS).
A car rental or ride share (Lyft/Uber) is recommended, but a limited shuttle is available from Sonoma County Airport Express.
We will comply with State of California and County of Sonoma recommendations or requirements for vaccine and mask use. Please familiarize yourself with the local requirements before registering or booking your travel.
While our room block runs from Monday, June 5, 2022 - Thursday, June 8, 2022, you may want to arrive or stay later. The Visit Petaluma website can help with activity ideas, shopping, dining, and additional lodging.
What to Expect From the Workshop
FlashPoint's highly-engaging and effective instructor-led classroom experience uses a variety of interactive features to bring the concepts of The Leadership Challenge® to life. Participants will be able to interact as a full group and in pairs/small group sessions. Our programs are designed to harness a variety of ways for participants to interact with each other and develop new knowledge and skills. And our facilitators are experts at enabling collaboration, reflection, and deeper understanding.
The optional Facilitator Training empowers and develops each participant's authentic skills to leverage the content in organizations. In the workshop, you will learn the research foundation for The Five Practices of Exemplary Leadership®, how to explain and interpret The LPI®: Leadership Practices Inventory®, and how to facilitate a powerful The Leadership Challenge® Workshop in your organization.
Here's what you can expect at every stage of your development:
Before the Workshop: Once you register, you'll complete the LPI® 360-degree assessment (including your self-assessment and inviting others to complete it) and prepare pre-work assignments.
During the Workshop: Participants will review assessments and learn from a variety of methods including self-reflection, group discussion, peer coaching, and hands-on learning.
Post-Workshop Reinforcement: Once the in-person session concludes, participants will keep the learning and application going with peer coaching/accountability partners, an LPI® coaching session, digital reinforcement, and an LPI® 360-degree reassessment.
QUALIFICATIONS AND PRE-REQUISITES
Attendees of any workshop or training program from The Leadership Challenge® shall sign an Attendee Acknowledgment (provided with your pre-work). Individuals who wish to attend Facilitator Training are subject to the following pre-requisites and professional qualifications.
Participants will have attended at least one 2-day (or longer) The Leadership Challenge®

Workshop.
In accordance with their attendance at The Leadership Challenge® Workshop, candidates will have read The Leadership Challenge and have taken a recent (no older than 6 months) LPI®

360.
Participants should be able to present a current Resumé or Curriculum Vitae that demonstrates preparation, and at least five years of combined experience in professional training, facilitation, adult education, or line management.
Cancellation and Refunds
Full refunds will be made if cancellation notice is received at least 30 days prior to the event and any previously received materials have been returned. Cancellations made less than 30 days prior are subject to a 50 percent cancellation fee.
LPI Coach Training: (Online Only)
LPI® Coach Training Online (must have a current LPI® report, or attend a prior workshop)
DATES PENDING
Not Ready to Register? You Can Take These Next Steps: